San Diego Officer Trevor Sterling Arrested for Bar Gun Brandishing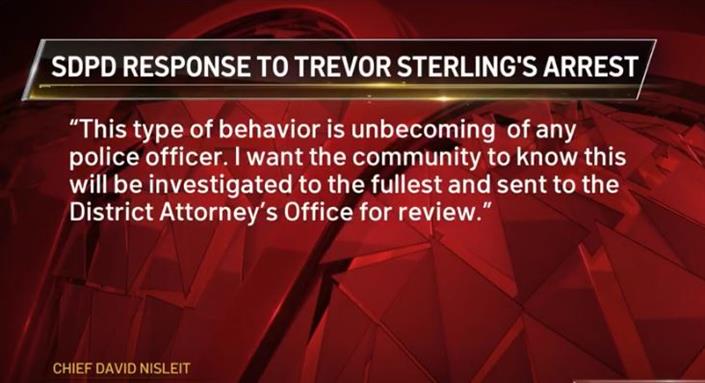 San Diego Police officer Trevor Sterling was arrested over the weekend for brandishing his service weapon outside a bar in Pacific Beach while off duty. He now faces charges of assault with a deadly weapon. The SDPD has suspended Sterling without pay pending the outcome of the case and an internal investigation. Sterling was a nine year veteran assigned to the Special Operations Unit.
According to media reports, police responded to a report of a disturbance outside a bar. Officers say that Sterling displayed a gun in a threatening manner, but have not elaborated. The SDPD won't even say which bar it happened at. He was booked into the San Diego County Jail and later released. San Diego County no longer posts mugshots online, so we have been unable to locate a photograph of Sterling. We also couldn't find any cases involving him using the San Diego County online portal (http://www.sdcourt.ca.gov/portal/page?_pageid=55,1641716&_dad=portal&_schema=PORTAL). We were however able to learn that Trevor A. Sterling made over $149,000 in 2019 (https://govsalaries.com/trevor-a-sterling-68021723). We also found his SDPD email address which is tsterling[at]pd.sandiego.gov.
Sterling was one of four officers involved in a 2016 shooting that left 30 year old Thongsoune Vilaysane dead following a pursuit (https://copblaster.com/blast/27844/thongsoune-vilaysane-killed-by-san-diego-police-department). Officers claimed that they opened fire after Vilaysane ignored commands to turn off the vehicle, put the vehicle in reverse, and rammed a patrol car. We have been unable to locate any footage from body cameras or dash cameras online, so we don't know if the damage to the patrol car came from being rammed or ramming.
According to public records, Trevor Andrew Sterling is a 34 year old resident of Ramona, California. He is a registered Republican with no prior criminal records.
#trevorsterling #thongsounevilaysane #assault #drunk
Published at Mon, 02 Aug 2021 15:58:47 GMT