Black lawmakers: Medicaid expansion, criminal justice reform needed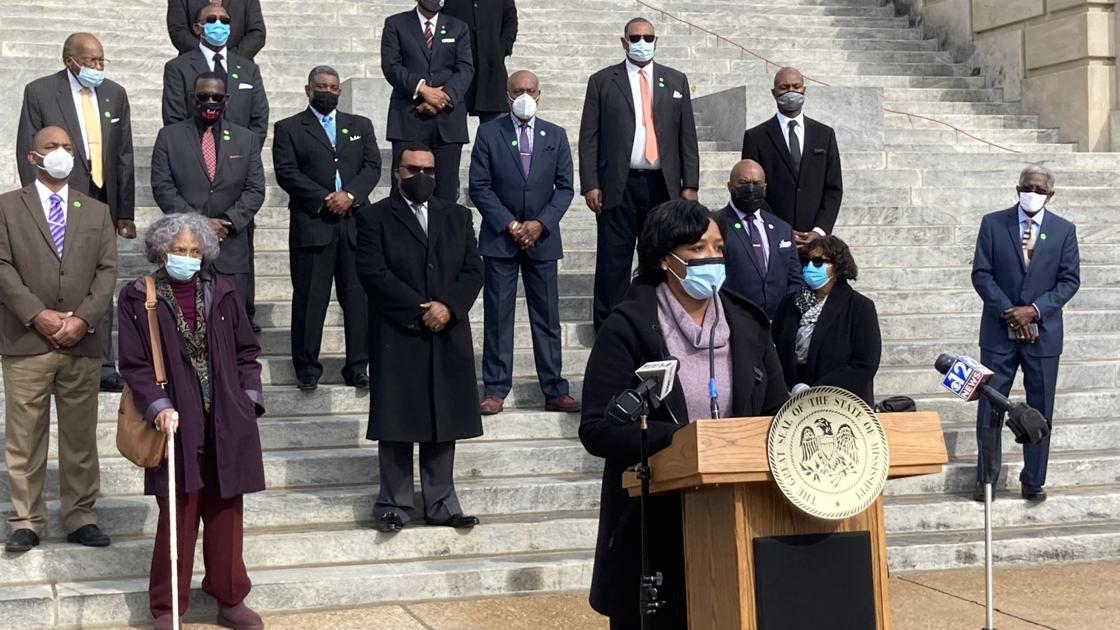 JACKSON • Gathered outside the state Capitol Wednesday, with three of the state's new magnolia-themed flags nearby, Angela Turner-Ford, a Democratic lawmaker from West Point, noted the moment.
"We're happy to join in the celebration that has changed," she said of the new flag.
Mississippi's leading Black lawmakers last held an outdoors news conference in June as they made a final plea for a new state flag. They had gathered then on a sweltering day as the old flag and its Confederate battle emblem flapped above their heads.
On Wednesday, many of the same legislators again gathered on the Capitol steps. But this time, the Confederate imagery was gone, replaced with the new design approved by voters last year and ratified by lawmakers last week.
But Turner-Ford didn't dwell on the victory. Top Black lawmakers have a slew of other priorities this session. Some ,such as addressing low teacher pay and the teacher shortage, appear aligned with Republican legislative leaders.
Others are long shots, but Black lawmakers plan to keep hammering on them, anyway.
One such long shot is a perennial focus for Democrats in the Legislature: expanding Medicaid to an estimated 170,000 low-income Mississippians who currently don't have access to care.
"We know that minority communities were hit extremely hard (by COVID-19), and with the expansion of Medicaid, we believe that will help those individuals receive the medical care that they need to stand up and fight the virus," Turner-Ford said.
Another top health priority for the caucus is allocating more money for a Medicaid waiver program that helps certain elderly and disabled people, as well as those with traumatic brain injuries, to receive in-home care. Turner-Ford said there's a long waiting list for those services that needs to be reduced.
The Black Legislative Caucus is also calling for women who qualify for Medicaid to receive a full year of postpartum benefits. And the group also wants to give women better access to long-acting contraceptives.
One of the caucus' priorities that is almost certain to pass this year is a teacher pay raise. A bill to raise teacher pay by $1,000 won approval by the Senate Education Committee Wednesday.
Turner-Ford also brought up concerns shared by many lawmakers about a teacher shortage in Mississippi. She said the caucus proposes helping recruit teachers to lower-ranked school districts by giving them financial assistance to pay off student loan debt.
The Black Legislative Caucus will also find concurrence from many of their colleagues on the need for criminal justice reform. Caucus member Sen. Juan Barnett, a Democrat from Heidelberg, leads the Corrections Committee.
Lawmakers will likely revise a reform bill that passed last year but was ultimately vetoed by Gov. Tate Reeves. It would have given thousands of offenders in Mississippi's crowded prison system the chance at parole.
"It's important that we address this prison crisis that we are in," Sen. Derrick Simmons, D-Greenville, the Senate Democratic leader, told the Daily Journal. "We have the second highest incarceration rate in the country, and the governor vetoed Senate Bill 2123 last year.
"It's my hope we can address the governor's concerns, and we can do something to safely reduce the prison population," Simmons added. "Because it's unsafe not only for the offenders, but it's also unsafe for our state employees. We need to incentivize programming inside of (the prisons) that would give people some kind of hope of release. And I believe that would encourage good behavior, and discourage bad behavior."
Turner-Ford said her caucus also wants to focus on changing Mississippi's strict marijuana laws, including eliminating criminal penalties for possession of up to 2.5 ounces of pot and ultimately legalizing recreational marijuana because of its potential economic benefits for state and local budgets.
On the topic of economic justice, Turner-Ford said she and other Black lawmakers plan to push for a ban on discriminatory lending practices. She said Mississippi is the only state in the nation that doesn't have such a law.
"You know, a lot of these bills have been introduced time and time again," Turner-Ford said. "If you speak with some of our more seasoned members, they can tell you about the conversations they've had with leadership, with their colleagues to try to advance these issues – that have gone fruitless, and unheard. But we will continue to fight."
Published at Wed, 13 Jan 2021 14:31:00 +0000