Sewall's Point Police Officer Juan Garcia Arrested for Sex Crime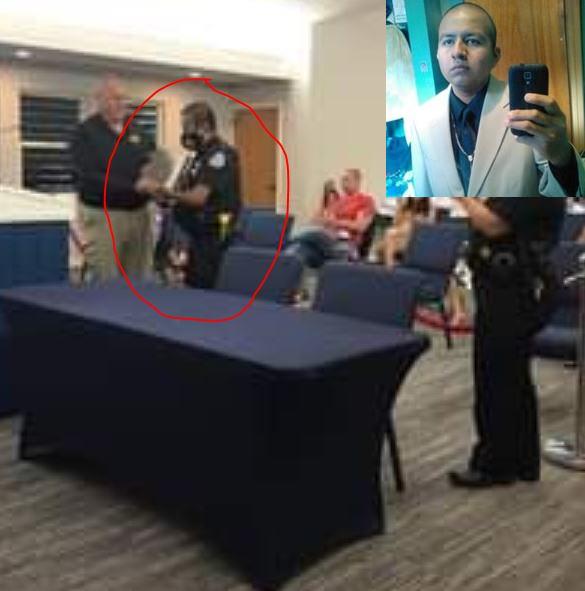 Sewall's Point Police Officer Juan Garcia was arrested today for sexual misconduct with a 15 year old. Garcia now faces four counts of soliciting a minor and one count of traveling to meet a minor for sex. He was arrested by the Martin County Sheriff's Office in the county which he resides. Garcia is a 5 year veteran with the Sewall's Point Police Department (SPPD). He has been placed on unpaid administrative leave pending the outcome of the case and an internal investigation.
We noticed that initial media reports about his case didn't bother to name Garcia. Those sources just said "an officer" whose name had not been released. We were able to find one source that did print his name and you can check it out by clicking on the source attribution link above the map on this page.
We couldn't find any good images of Garcia at first, but we were able to find the above image on the Town of Sewall's Facebook page in a post about Officer Garcia receiving an award for traffic safety earlier this year (https://m.facebook.com/story.php?story_fbid=2046364908851152&id=210330542454607&m_entstream_source=timeline). We found Garcia's LinkedIn profile on which he claims to be the owner of Mi Cabana Taco Truck in Stuart, Florida and Garcia Services in Martin County. He described Garcia Services as follows:
"I am a self employed Public Notary for the state of Florida. My business dedicates itself in Notarizing Documents, Translating Documents from Spanish to English (written or orally), Translating in Person, and helping fill out applications (I.e. Passport Applications, Job Employment Applications, & More). My Spanish has helped resolve issues and translate for those unable to speak English." – https://www.linkedin.com/in/juan-garcia-85795584/
Mi Cabana Taco Truck claims to be located at 2602 SE Clayton St, Stuart, FL 34997 according to the company's Facebook page (https://www.facebook.com/MiCabanaTacoTruck/) which lists the email address juangarcia_772[at]yahoo.com and phone number
(772) 209-2463. That same email address was used to create the Juan Garcia LinkedIn account which has been linked to the phone number 772-283-9656. We found a profile of Juan Garcia promoting himself as a notary public in Stuart, Florida which is where we finally found his picture (https://notary.snapdocs.com/notary-public/florida/stuart/juan-garcia).
According to public records, Juan Antonio Garcia is a 30 year old resident of Stuart, Florida last known to reside at 2602 SE Clayton Street. We noticed that address matches the address of Mi Cabana Taco Truck from Facebook, however public records list the address of Mi Cabana Taco Truck as 3450 SE Dixie HWY. Garcia has also been linked to the address 4592 SE MURRAY COVE CIR STUART, FL 34997 as recently as this year. We normally don't paste the home addresses of police officers into the body of our articles, but we make exceptions for exceptional officers. Garcia made himself exceptional in our view by being arrested for sex crimes against a minor. #juangarcia #micabanatacotruck #sexoffenders
Published at Tue, 23 Nov 2021 18:48:37 GMT